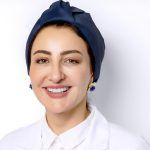 Dr Dua'a Dergham
General Dentist
Cosmetic Dentistry
Experience in General and Cosmetic Dentistry
Dental Clinic in Umm Suqeim 2, Dubai
Choosing your dentist is one of the most important decisions you can take for your oral health. Entrusting your SMILE it is about clinical skills and a patient – doctor relationship build on trust. Dr Dua'a Dergham is an honest, gentle and caring specialist who believes patients must be treated like family.
Dr. Dua'a Dergham is a General Dentist with over twenty years of experience in the field of general and cosmetic dentistry. She completed her studies in the Dental Faculty with British standards in Jordan in 1993 and had since completed a number of post-graduated courses and educational programs in Dubai and overseas, updating her knowledge in the field of Cosmetic and Restorative Dentistry.
She started her experience in the private sector in Jordan and then moved to Dubai where she joined the Ministry of Health as a General Dentist for seven years, after which she established a private practice and continued providing professional dental care for UAE community, being recognized for her relatively pain-free and comfortable approach.
She has excelled in various aspects of General and Aesthetic Dentistry and attended multiple trainings, conferences and workshops in Endodontics, Periodontics, Pediatric Dentistry, Invisalign, Rooth Canal Treatments and white composite restorations, X-Ray & Panoramic X-Ray, SMILE Design (advanced workshops on Lumineers, Porcelain Veneers, Teeth bonding, Teeth Whitening), Dental Implantology and Cosmetic Laser Dentistry etc.
Dr Dua'a Dergham is an active member of Emirates Medical Association and Jordan Medical Association.
Creativity is an essential component in the Aesthetic Dentistry field where the smile design has to unveil a natural look. Dr Dua'a is using her skills, knowledge and dedication to restore, enhance and design smiles through a precise and personal approach.
Dr Dua'a has a reputation for a superior standard of care for her patients where honesty, passion and professional skills play an important role in the patient – doctor relationship.
Wellbeing Clinic has a state-of-the-art dental department equipped with the latest technologies such as Panoramic X-Ray, Digital X-Ray, Intra-oral Camera, Laser for re-designing gums and bleaching dark gums, Nitrous Oxyde (Safe & effective sedative agent, also known as Laughing gas), using only professional German and Swiss quality dental products, etc.
The following procedures are being done our the dental clinic in Wellbeing Clinic:
Dental Consultation and full mouth examination with an intra-oral camera screening (which will be used also to show the teeth "before" & "after" the treatments.
Routine check ups, Intraoral Digital X-ray (Bitewing), Panoramic X-rays
4D CBCT scans (for Smile Design with veneers).
Dental Cleaning with scaling and polishing, Oral surgery.
Zoom Teeth whitening with LED technology, Cosmetic Dentistry (Smile Design with porcelain veneers).
Laser bleaching for gums and laser gums restoration.
Root Canal Treatment, Dental filling, Crown and bridgework, partial & full denture.
Languages spoken:
English, Arabic
Free Consultation, for bookings and enquiries on 04-348-44-06 or 056-270-55-99 or book online.
______________________________________________________________________________________